Buy as a Pack And Save!
This pack includes:
1 x Artist SVN18 Solid Wood Student Violin Package 1/8 Size
1 x Artist MUS007 Light Folding Music Stand with bag (Heavier duty)
1 x Artist VNST12 1 Set of Violins Strings for 1/2 and 1/4 Size
1 x Artist TN50 Chromatic Clip on Guitar Digital Tuner
Not all Violins are the same!
Our All Solid Wood Artist Student Violin package is a complete package to learn violin:

 Solid Wood Violin (1/8 size)

  Bow

  Hard Case (with Shoulder Straps)

  Chin Rest

  Shoulder Rest

  Rosin

  Free Video Setup Guide (this will be emailed to you)
You will struggle to find an All Solid Wood violin of this quality for this price!  It has fine tuners on all strings which are essential for good tuning.  We also have a great set-up and tuning video for beginners. These Violins come fully strung, set-up and ready to play from the factory, you just need to tune them and apply the rosin to the bow. (We have support material on how to do this.)
If you need a tuner our Artist TN50 clip on Tuner is a great choice to add to your order.
Not sure what size to buy? Here's an easy guide:
The first step is to have the player stretch out his or her arm fully ensuring that there is no bend in the arm.
The second step is to measure the total distance from the neck to the centre of the palm.
After following the above instructions, use the measurement and the sizing chart below to determine the proper violin size.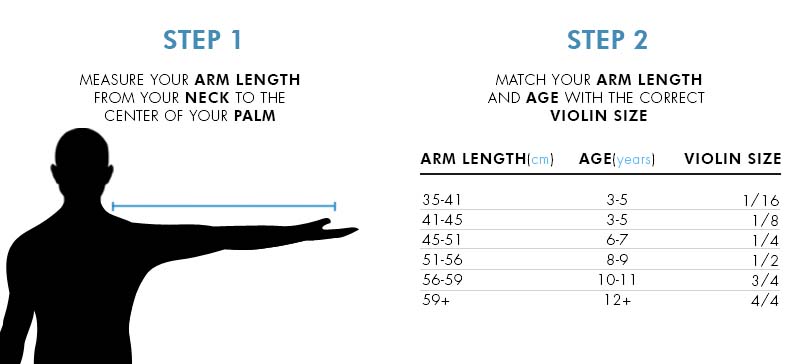 The Tech Features
Brand :- Artist
Model :- SVN18 
Size :- 1/8 Size Violin Pack
Woods :- 
Top: Spruce
Back and Sides: Flame/Quilted Maple 
Neck: Maple
Fingerboard: Ebony
Tail piece: Carbon Fiber
Tuning Pegs: Ebony
Included Accessories :- Hard Case, Bow(Redwood with Horser Hair), Rosin, Chin rest & Shoulder Rest
Colour :- Vintage Natural (NT)
About this Artist MUS007 Light Weight Portable Folding Music Stand with Bag
This is a durableportable music stand with a tough nylon carry bag. It has stronger legs than our MUS008 stand and weighs a little more at 1.6Kg.
This stand sells for over $40 in most retail shops.

The Tech Features
Model:- MUS007
Type:- Folding Music Stand with Bag
Colour:- Black
Dimensions:-
41cm/16 inches- Width of bookplate (at the top)
46.5cm/18 inches - Width of bookplate (at the bottom)
120cm/47 inches - Height to adjuster (fully extended)
140cm/55 inches - Total Height (fully extended)
About These Strings
Great Quality Violins Strings to Suit 1/2 and 1/4 Violins.

The Tech Features
Brand :- Artist
Model Number :- VNST12

Suit :- 1/2 and 1/4 Violins
Materials :- Aluminium Alloy wound, Solid Steel Core